InstaPage® News
May 31, 2013
News - InstaPage® Gold 6.0 Now Available
The Lazarus Group Internet Services, LLC today announced the
release of the long anticipated next version of its very unique web solution for large-scale communities, InstaPage Gold 6.0.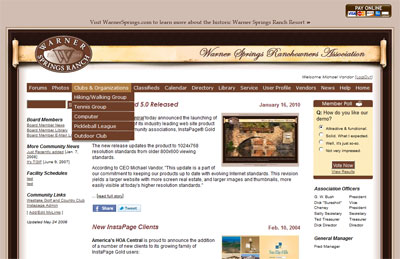 The new release includes a variety of powerful features that will bring current users electing to upgrade into the web of 2013. The list includes:
Higher resolution (1024x768) designs and layouts for today's PC's;
New dropdown menus to get homeowners/users to their desired destinations more rapidly;
New Facebook/Twitter integration;
New (optional) Paylease online payment processing feature;
New Text Blast feature as an option to E-mail Blasts;
New integration with the VMS Property Management Software;

InstaPage Mobile 2.0

with updated screen layouts for today's Smartphone's, and with the addition of Document Library access.
New weather widget feature.
In addition, many small features have been improved.
"This release represents one of the larger leaps from release to release." stated Mark Davis, Sales Director for InstaPage. "Users of older versions would be well advised to consider upgrading this year to take full advantage of these great new additions, and to make them available to their members."
InstaPage® is a product and registered service mark of The Lazarus Group. Questions regarding this press release may be addressed to info@instapage.net or 1-800-324-0572.