InstaPage® News
Sept. 28, 2016
News - InstaPage 5.0 Release Announced for 2017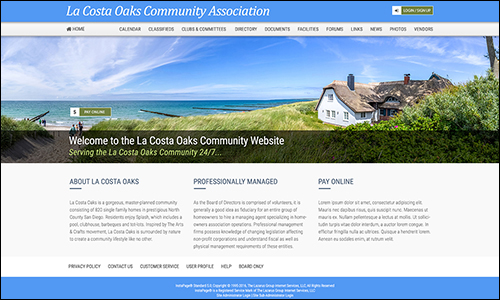 The Lazarus Group Internet Services, LLC announced today the planned 2017 release of its most ambitious InstaPage Standard release in a decade - InstaPage Standard 5.0. The release involves a substantial re-write and update of the entire InstaPage Standard HOA Website system.
According to CEO, Michael Vandor, the release is tentatively planned to offer twelve beautiful and current template choices, one of which appears in this release. Tentative plans call for a phased in release that when completed will include:
New current responsive templates with increased customization flexibility per site for the main image, fonts, & colors.
Cleaner home page more public friendly;
Support for up to three rotating images on the home page;
Ability to designate library documents as "public" to appear sans login in the home page drop down menus;
Further template screenshots and feature changes will be announced during the development cycle.
InstaPage® is a product and registered service mark of The Lazarus Group. Questions regarding this press release may be addressed to info@instapage.net or 1-800-324-0572.