InstaPage® News
April 1, 2018
News - InstaPage Standard 5.0 Now Available as Upgrade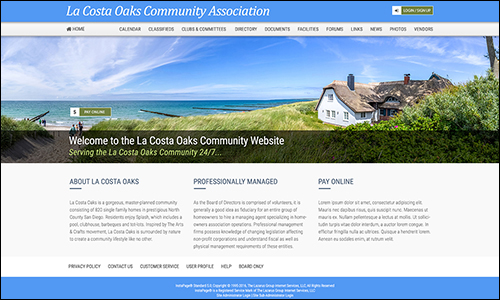 InstaPage Standard 5.0 went through a 60 day beta program during February and March 2018. During that period volunteering clients were the first to enjoy the benefits of 5.0 and were provided a discount on the upgrade for their participation and input. These HOA's were instrumental in providing feedback that helped us address a final batch of issues, and lead to plans for future improvements. We thank them for their contributions.
InstaPage Standard 5.0 became available as an upgrade to all direct sale clients currently running the 4.0 version on April 1, 2018.  The fee for upgrade from launch through June 30, 2018 is being discounted on an introductory offer to a one-time upgrade fee of $179.00. Pricing will rise on July 1st.
The new version introduces responsive templates for the first time - HOA website templates designed to adjust to any common device resolution, all popular browsers, and all popular tablets and smartphones. Now, 100% of your HOA website's front end features will display and function properly on smartphones. This is a significant leap forward to current, cutting edge technology.
At launch, 5.0 offers twelve responsive templates to choose from. The new templates were designed by a top designer for CBS Sports, and we feel are exceptionally beautiful.
The new HOA website templates support up to three customizable rotating images, and even primary color customization, a tag line adjustable from your Site Administrator Control Panel, and more. They use an interesting movement feature called paralax to add sex appeal when vertically scrolling on any page. We have also streamlined text display to prevent clunky use of differing fonts, font sizes, and colors to ensure a cleaner, more professional appearance through use of CSS rather than older style HTML tags.
In short, InstaPage 5.0 presents a significant upgrade in both beauty and flexibility.
You may review the marketing flyer for the upgrade at https://www.ips5.us/ips5.pdf and may request print versions of the flyer for your Board by emailing us at sales@instapage.net with how many flyers you need and where to mail them.


For more information please contact Mark Davis, V.P. of InstaPage Sales, at sales@instapage.net.