InstaPage® Standard
What Features Does InstaPage® Standard Include?
InstaPage® Standard not only provides you a beautiful HOA website for your community, it has been created and tailored specifically for homeowners associations, and includes a complete and powerful feature set to benefit your community and its residents. And as previously stated, the system is continually receiving enhancements to keep your HOA website 'cutting edge'. In fact, our most ambitious release to date, InstaPage® Standard 5.0, is now available as an upgrade (sample 5.0 template screenshots shown below, see our live demo at https://www.ips5.us).
Our features include:

InstaPage Standard 4.0 Feature List
Easy Content Management System
Secure Member Registration & Login
A Variety of Templates With Ability to Add Custom Site Header
Customizable Customer Service Form
News With Photos, Videos, Facebook/Twitter Integration
Secure Document Library
Community Calendar With E-Mail Reminders, RSVP Capability
E-Mail & SMS Text Blast Capability
Online Resident Directory
Online Facility Reservation System
Unlimited Message Boards
Classified Ads
Unlimited Photo Albums
Board Member Only Features
Online Vendor Directory
Private Member Polls
Club/Committee Pages
User Customization of Calendar, Links
Includes Mobile Version for Smartphones
Integration With VMS Property Management Software
Secure Online Payment Processing Available Through Paylease
24/7 Emergency Support for Site Administrators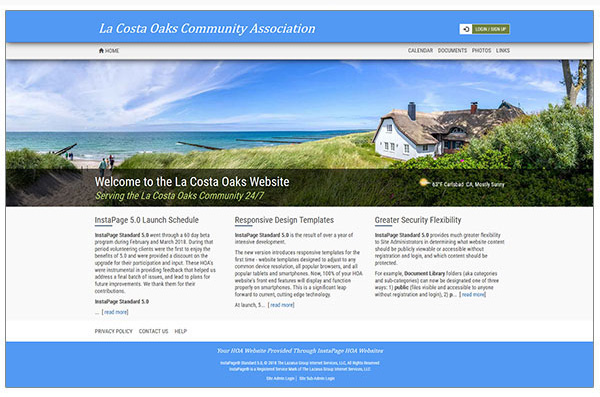 InstaPage® Standard offers substantial functionality at an affordable and competitive price starting as low as $14.95 per month (for a 100 unit community, our principal competitors charge $70-$75 per month; InstaPage® starts at only $29.95), using the most attractive homowners association website templates on the market.
Download our marketing flyer here.